What Makes Yappie Cuttery Unique?
AT YAPPIE CUTTERY, WE HAVE BUILT A REPUTATION FOR OUTSTANDING SERVICE, WORKMANSHIP, AND CLIENT SATISFACTION. WE PROVIDE ALL OUR SERVICES AT AFFORDABLE PRICES BECAUSE WE BELIEVE COST SHOULD NEVER INTERFERE WITH THE QUALITY OF GROOMING YOUR PETS RECEIVE.
WE HAVE A UNIQUELY LARGE GROOMING STAFF THAT ALLOWS US TO ACCOMMODATE NEXT-DAY APPOINTMENTS, AS WELL AS WALK-INS BEFORE 11:00AM. OUR GROOMERS ARE NOT DRIVEN TO RUSH THE GROOMING PROCESS. AT YAPPIE CUTTERY, ALL PETS RECEIVE THE CARE AND ATTENTION THEY DESERVE, NO MATTER HOW LONG IT TAKES; THIS HAS MADE US POPULAR WITH GERIATRIC AND HARD-TO-HANDLE PETS.
WE USE A MILD, PH-BALANCED SHAMPOO WITH A BUILT-IN CONDITIONER FOR ALL GROOMINGS. CLIENTS WITH PETS THAT REQUIRE SPECIAL OR MEDICATED SHAMPOO ARE WELCOME TO PROVIDE THE SHAMPOO THEMSELVES.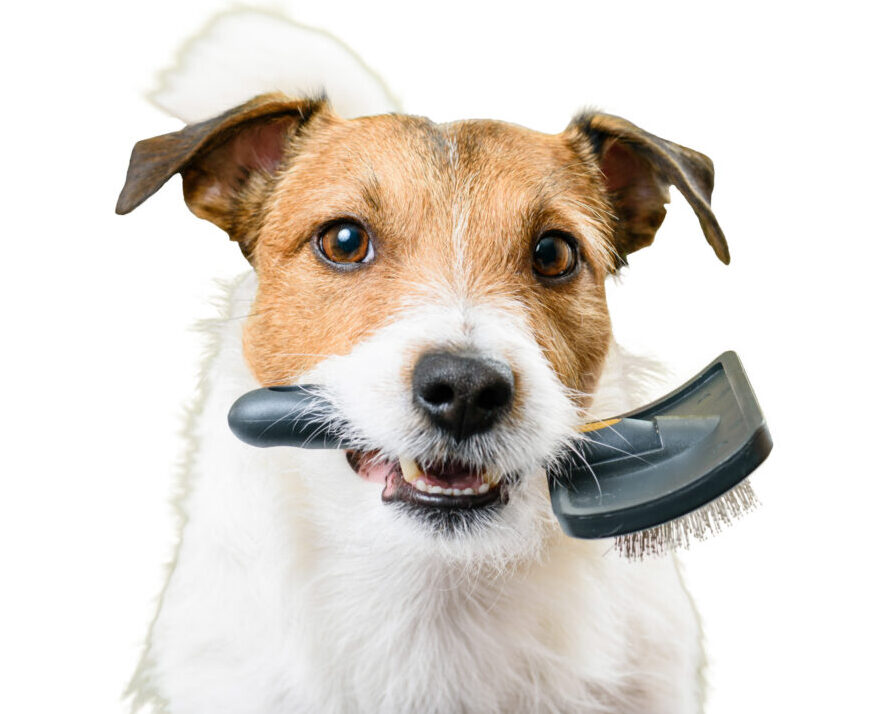 Facility Features
DIRECT ACCESS TO OUTDOOR WALKING AREA
WARM-AIR-CIRCULATING DRYERS THAT DO NOT USE HEATING ELEMENTS LIKE REGULAR CAGE DRYERS
TEMPERATURE-CONTROLLED WATER IN BATHING UNITS
NON-SKID ANTIBACTERIAL FLOORING
LARGE HYDRAULIC TABLES THAT CAN ACCOMMODATE PETS OF ANY SIZE
STAND DRYERS THAT FLUFF-DRY PETS

VIP 10% Discount Program
FOR OUR VIP 10% DISCOUNT PROGRAM, YOUR PET IS SCHEDULED TO BE GROOMED EVERY SIX WEEKS FOR A FULL GROOMING IN ORDER TO ENJOY DISCOUNTED PRICING. IF YOU CANNOT KEEP AN APPOINTMENT, WE ARE HAPPY TO RESCHEDULE IT WITHIN ONE WEEK OF THE ORIGINAL DATE TO MAINTAIN YOUR VIP DISCOUNT.
MEMBERS OF THIS PROGRAM RECEIVE 10% OFF OF OUR FULL GROOMING SERVICES.
TEETH BRUSHING IS INCLUDED WITH EACH GROOMING, WHICH SAVES YOU $18-$25 WHEN COMPARED TO WHAT YOU WOULD PAY TO HAVE YOUR PET'S TEETH BRUSHED WITHOUT BEING A VIP.
VIP 25% Discount Program
OUR VIP 25% DISCOUNT PROGRAM IS FOR CLIENTS WHO HAVE THEIR PETS GROOMED BY TRAINED INTERNS OF OUR AFFILIATE, THE VIRGINIA SCHOOL OF PET GROOMING. INTERNS ARE CLOSELY SUPERVISED BY A CERTIFIED INSTRUCTOR AS THEY GAIN PRACTICAL EXPERIENCE IN THE ART OF GROOMING, AND NO PET LEAVES THE SALON WITHOUT BEING CHECKED AND APPROVED BY A PROFESSIONAL.
THIS PROGRAM OFFERS THE SAME SIX-WEEK SCHEDULE AND HIGH-QUALITY SERVICES AS THE VIP 10% DISCOUNT PROGRAM, BUT AT A LARGER DISCOUNT OF 25% OFF OF OUR FULL GROOMING SERVICES.
What If My Pet Does Not Receive a Full Grooming?
FOR CLIENTS WHO CHOOSE OUR BBT SERVICES, WE ARE HAPPY TO SCHEDULE YOUR PET EVERY SIX WEEKS AND PROVIDE A FREE TEETH BRUSHING WITH EACH GROOMING. HOWEVER, THERE IS NO DISCOUNTED PRICING FOR BBTS.

Service Options
BATH AND BRUSH-OUT: INCLUDES BATH AND EXPRESSION OF ANAL GLANDS, BRUSH-OUT BEFORE BATH, AND FLUFF-DRY AFTER BATH
BATH, BRUSH-OUT, AND TRIM: INCLUDES EVERYTHING IN A BB PLUS NAIL TRIMMING, EAR CLEANING AND PLUCKING (IF NEEDED), TRIMMING OF THE SANITARY AREA, AND TRIMMING OF FEET AND FEATHERS
FULL GROOM: INCLUDES EVERYTHING IN A BB AND BBT PLUS A FULL BODY CLIP TO CLIENT'S SPECIFICATIONS
FOR YOUR CAT'S GROOMING NEEDS, WE OFFER: CAT BBTS, CAT CLIP-DOWNS, AND LION CLIPS
ALTHOUGH TEETH BRUSHING IS INCLUDED IN THE VIP PROGRAMS, IT IS ALSO AVAILABLE TO CLIENTS WHO ARE NOT ON A VIP PROGRAM FOR AN ADDITIONAL COST
WE OFFER TRADITIONAL AND DREMEL NAIL TRIMMING AS A STAND-ALONE SERVICE, THOUGH IT IS INCLUDED IF YOUR PET RECEIVES A BBT OR A FG
NEW: Curbside
WE ARE PLEASED TO NOW BE OFFERING CURBSIDE NAIL TRIMMING SERVICES. DRIVE UP BETWEEN THE HOURS OF 10AM – 2PM, CALL US, AND ONE OF OUR GROOMERS WILL COME GET YOUR PET. THANKS TO OUR MOBILE CREDIT CARD TERMINAL, THE ENTIRE PROCESS START-TO-FINISH CAN BE DONE WITHOUT YOU NEEDING TO LEAVE YOUR CAR!
UPON REQUEST, FOR REGULAR GROOMING APPOINTMENTS WE ARE ALSO HAPPY TO COME TO YOUR CAR FOR DROP-OFF AND PICK-UP. JUST ASK!
Pricing
OUR NEW PRICING STRUCTURE IS BASED ON WEIGHT AND HAIR TYPE. WE WILL WEIGH YOUR PET AND ASSIGN HIM/HER TO ONE OF THE FOLLOWING CATEGORIES:
SMALL (0-15LBS)
MEDIUM (16-30LBS)
LARGE (31-60LBS)
EXTRA LARGE (61-80LBS)
AFTER BEING ASSIGNED A WEIGHT CATEGORY, YOUR PET WILL FURTHER BE CLASSIFIED BY COAT TYPE. THIS PRICING STRUCTURE WILL ALLOW US TO CHARGE IN A MORE CONSISTENT AND FAIR MANNER THAN DETERMINING PRICES BY BREED.

No Shows and Cancellations
IF YOU NO SHOW FOR AN APPOINTMENT, YOU MUST PRE-PAY FOR YOUR PET'S GROOMING IN ORDER TO RESCHEDULE. THE PAYMENT IS NON-REFUNDABLE IF YOU LATER CANCEL THE RESCHEDULED APPOINTMENT OR NO SHOW AGAIN. MULTIPLE NO SHOWS MAY RESULT IN YAPPIE CUTTERY BARRING YOU FROM SCHEDULING ANY FUTURE APPOINTMENTS.
WE HAVE A 48 HOUR CANCELLATION POLICY. AFTER TWO INSTANCES OF CANCELLING WITH LESS THAN 48 HOURS' NOTICE, YOU MUST PRE-PAY BEFORE RESCHEDULING THE APPOINTMENT. AS WITH NO SHOWS, THE PAYMENT IS NON-REFUNDABLE.
Drop Off and Pick Up
DROP-OFF TIME IS 8:00AM – 10:00AM MONDAY – SATURDAY. IT IS OUR GOAL TO GET YOUR PET HOME AS SOON AS POSSIBLE, BUT THE TIME YOU DROP YOUR PET OFF IS NOT ALWAYS INDICATIVE OF WHEN YOUR PET WILL BE FINISHED. GROOMERS START WORKING ON DOGS BASED ON THE EARLIEST DROP-OFF TIME, BUT DEPENDING ON COAT CONDITION, TYPE OF GROOMING REQUESTED, AGE, SIZE, AND LEVEL OF COOPERATION, ANY DOG COULD BE FINISHED ANYWHERE FROM EARLY AFTERNOON TO CLOSING, REGARDLESS OF WHEN THE GROOMERS BEGIN THE GROOMING. BY TAKING THE TIME TO BE ATTENTIVE TO EACH DOG'S INDIVIDUAL NEEDS, WE CREATE A STRESS-FREE ATMOSPHERE FOR YOUR PET SO THAT THE FINAL OUTCOME IS THE HIGH-QUALITY GROOMING FOR WHICH WE ARE KNOWN.
Vaccines
DOGS AND CATS MUST BE UP-TO-DATE ON THEIR RABIES VACCINATIONS IN ORDER TO BE GROOMED AT YAPPIE CUTTERY. IF OUR RECORDS SHOW THAT YOUR PET IS NOT UP-TO-DATE, YOU MUST PROVIDE PROOF OF VACCINATION NO LATER THAN THE DAY BEFORE YOUR APPOINTMENT BY EMAILING THE RABIES CERTIFICATE TO YAPPIECUTTERY@AOL.COM.
Fleas, De-Matting, and Senior Pets
IF FLEAS OR TICKS ARE FOUND ON YOUR PET, HE/SHE WILL BE BATHED USING FLEA AND TICK SHAMPOO. THERE WILL BE A SEPARATE FEE FOR THE TREATMENT IN ADDITION TO THE REGULAR GROOMING CHARGES.
A SEVERELY MATTED PET WILL BE GIVEN A FULL-BODY CLIP-DOWN, AND YOU WILL BE ASKED TO SIGN A CONSENT FORM FOR THE GROOMING. A SEPARATE FEE WILL BE ASSIGNED IN ADDITION TO THE REGULAR GROOMING CHARGES BASED ON THE EXTENT OF YOUR PET'S MATTING.
FOR PETS OVER THE AGE OF 12 YEARS, WE REQUIRE A SENIOR PET WAIVER TO BE SIGNED PRIOR TO RENDERING SERVICES.